Morning of the Mo
Ballina Lighthouse Carpark,
Event Details
The Morning Of The Mo surf contest celebrates a time when the shorts where tight, Mo's were thick and the surfing was smooth. Competitors battle it out under the guise of an alter ego in one part surf contest one part dance off.
Event breaks it into two categories, there's the surfing event and then there's the night event, which is the dance off. Winning the surf event is only part of the deal. To win the overall event you have to come in character at 7am and hold that character right through by surfing in costume and head to the Byron Bay Brewery for the after party and dance off that evening. The winner is the one who has held that character for the entire day.
Rules,
- It's either got to be a single fin or a twin fin. Pre '80s surf craft and no
leg rope at all.
- No Mo no go
- If it didn't happen back then it not happening now.
- $50 bucks will get you into the event and a bus to and from the
brewery in Byron and a free beer on arrival at the bay.
There is a fun event to raise awareness for mens health have a yarn to ya mates over a cold beer and a snag.
Check out the Morning of the Mo's Instagram page to check out last year's competition. http://instagram.com/morningofthemo_
After Party: To get the party started we have live music by Brisbane's Shag Rock, New Zealand indie group Albion Place and of course our resident Movember tune selector DJ Eddy.
1 Skinners Shoot Road, Byron Bay NSW 2481
---
Donate
Total amount this event has raised:
$50
About the event organiser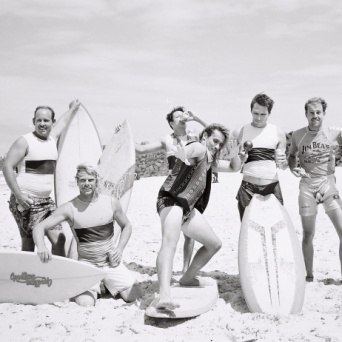 Amount raised
$5,192