From growing a Mo to global collaboration. The Movember Foundation is connecting and funding the best scientific and clinical minds in the world: fast tracking a time when no man will die from prostate or testicular cancer. The Foundation has created the largest global alliance of prostate and testicular cancer researchers and clinical specialists ever formed, who are working together tackling head on the toughest cancer challenges in an initiative known as the Global Action Plan (GAP).
The Movember Foundation is uniquely placed to achieve this, as it is one of the major funders of prostate and testicular cancer research in 21 countries. This reach and influence enables the Foundation to identify the best minds in the world and bring them together in collaborative teams.
Paul Villanti, Executive Director of Programs at the Movember Foundation explains the fundamentals behind GAP:
"Our vision is to have an everlasting impact on the face of men's health and it's to this end that we've established GAP. We believe that team-based research, performed across borders with a strong collaborative mindset, avoiding duplication of work, can deliver innovation and knowledge sharing that leads to an acceleration of results that benefit men diagnosed and living with prostate cancer and testicular cancer today."
Why we need to act:
Prostate cancer is the second most common cancer in men worldwide1

Prostate cancer is the 5th leading cause of death from cancer in men with an estimated 307,000 deaths worldwide in 20121

Testicular cancer is the most common cancer in men aged 15-40 years2
The issues:
Studies have found that around half of men diagnosed with prostate cancer are unneccessarily overtreated.3 And as a consequence men are exposed to suffering from avoidable side effects affecting their quality of life.

When treating prostate cancer, timing is crucial to prevent the cancer from spreading. Unfortunately there is a lack of markers available to help doctors make decisions about the best course of treatment to take for each man.

Testicular cancer incidence is on the increase resulting in a greater need to identify patients who are most likely to relapse after initial therapy and deliver personalised treatment strategies.2
The 5 big cancer questions being tackled by
the Movember Foundation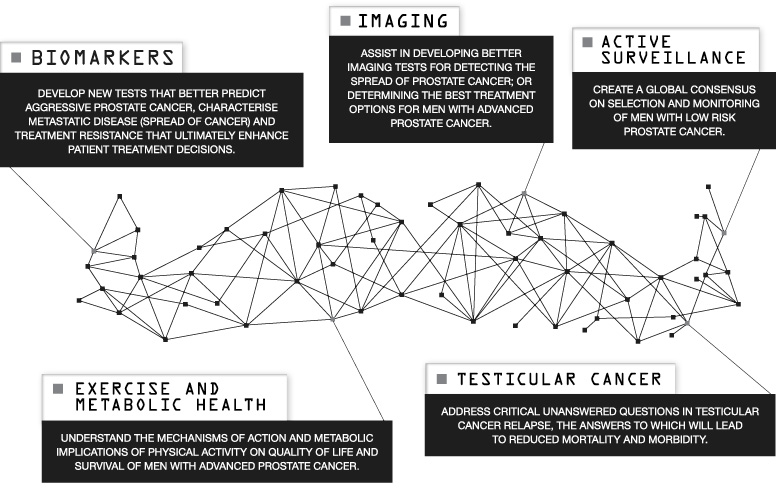 1) How can you predict the aggressiveness of prostate cancer?
The severity of cancer varies between men and it is often difficult to predict the aggressiveness of the disease. New tests are needed to help identify low risk versus aggressive prostate cancer to then determine which treatment regime is most optimal. The 1st GAP Biomarkers initiative plays a role in this area by examining various biological markers in blood, tissue and urine to decide how effective these markers can be as tests in the future.
"We are currently not particularly good at determining who has prostate cancer and who should be treated when and with what therapy. To answer these questions, we need more and better markers, whether it is a blood or urine test, or an imaging technique. All these aspects are covered by the different GAP projects. Our combined efforts will generate new methods and tests to help men that need prostate cancer treatment. The Movember Foundation facilitates world-wide collaborative research efforts on all important aspects of men's health. Getting into contact with other research groups and receiving funding for working together speeds up our progress. The initiation of new partnerships will have a lasting impact on the science community and is hard to achieve without the Movember Foundation's active support."
- Professor Guido Jenster
Director of the Experimental Urology Laboratory
Erasmus MC, Rotterdam, The Netherlands
and part of the GAP1 Biomarkers Initiative
2) How can you attack cancer if you cannot see it properly?
The 2nd GAP Initiative aims to push the limits of prostate cancer imaging through 3 landmark global clinical trials. One of the trials looks at a non-invasive method using the marker FDHT to directly image cancer cells. The other trials strive to gain regulatory approval for the markers Choline and PSMA, which identify the spread of cancer. The outcomes of these trials hope to significantly improve the ability to image cancer clearly, accurately identify its location and improve our understanding of its response to treatment. This will help determine which treatments will be most effective for a man with advanced prostate cancer.
3) Once a man has been diagnosed with prostate cancer, what options does he have?
Men are often over treated and may have side effects from therapy that can include erectile dysfunction and incontinence. One of the options after initial diagnosis can be active surveillance, or watchful waiting, where prostate cancer is monitored through tests and biopsies, without affecting a man's lifestyle. The 3rd GAP Initiative will create a central database involving around 40% of the world's active surveillance patient data. This will help create a global consensus on the selection and monitoring of men with low risk prostate cancer and will reduce the number switching to active therapy and hopefully improve their quality of life.
4) Could exercise play a significant role in improving the quality of lives of men with advanced prostate cancer?
Evidence has shown that exercise may be key to leading a healthier, happier life. The 4th GAP Initiative will fund an international clinical trial to determine the benefits of exercise for men with advanced prostate cancer and identify an optimized exercise regimen in which they can participate.
5) Testicular cancer treatment has a high success rate but what happens if the cancer comes back?
Last year the Global Action Plan expanded to include testicular cancer, which is the most common cancer in young men in their early 20s and 30s.2 The 5th GAP Initiative is a testicular cancer research project that will answer questions as to why in some men the cancer comes back and which treatments are best for these men. Paul Villanti, Executive Director of Programs at the Movember Foundation highlights that "we're working around the clock and around the world to improve the lives of men and boys who are travelling on the testicular cancer journey. Together, we will beat testicular cancer."
"We're proud of all that we're achieving but we only have one definition of success: finding breakthrough solutions that produce tangible improvements in the lives of men with prostate and testicular cancer. Together, with the continued support of the Movember community, we know we can continue to change the face of men's health."
- Adam Garone
CEO and Co-Founder, The Movember Foundation
Footnotes:
FDHT: [18F] Fluorodihydrotestosterone is a biomarker - a measurable indicator of disease - used to identify areas of cancer spread in a PET/CT scanner.
Choline: [18F] Fluorocholine is a PET scanner imaging agent used in staging of prostate cancer.
PSMA: Prostate-specific membrane antigen is used as an imaging agent as it is expressed in all stages of prostate cancer.
References:
Ferlay J, Soerjomataram I, Ervik M, Dikshit R, Eser S, Mathers C, Rebelo M, Parkin DM, Forman D, Bray, F.GLOBOCAN 2012 v1.0, Cancer Incidence and Mortality Worldwide: IARC CancerBase No. 11 [Internet].Lyon, France: International Agency for Research on Cancer; 2013. Available from: http://globocan.iarc.fr, accessed on 23rd May 2014.
Shanmugalingam T, Soultati A, Chowdhury S et al. Global incidence and outcome of testicular cancer. Clinical Epidemiology 2013; 5: 417-427.
Heijnsdijk EAM, der Kinderen A, Wever EM et al. Overdetection, overtreatment and costs in prostate-specific antigen screening for prostate cancer. British Journal of Cancer 2009; 101: 1833-1838.
More on GAP
---
Click here to find out more about global and national programs funded by the Movember Foundation.
---