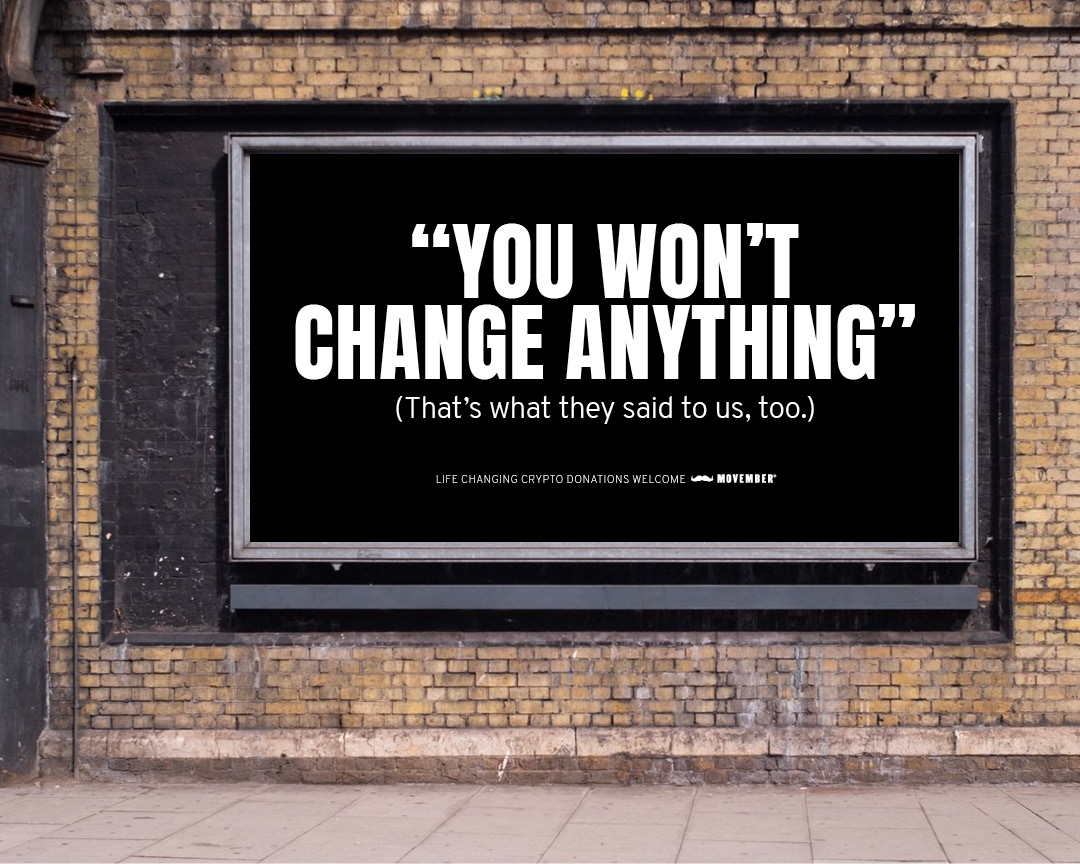 CRYPTO DONATIONS ACCEPTED
Your cryptocurrency can now help change the face of men's health. Donate crypto now.
Donate cryptocurrency to Movember
Frequently asked questions 
What is cryptocurrency? 
Cryptocurrency is a digital or virtual currency. It typically uses blockchain technology which makes it practically impervious to counterfeiting. It differs to traditional fiat currencies in that it is decentralized and is generally not overseen by a central bank/authority. There are many forms of cryptocurrency, of which Bitcoin is the most widely known.  
Who facilitates cryptocurrency donations to Movember? 
We've partnered with a trusted and secure third-party platform, The Giving Block, that specialises in helping non-profit and charitable organizations to accept cryptocurrency. 
If you have any questions about donating cryptocurrency to Movember, please reach out to us at
crypto.au@movember.com
or on 1300 GROW MO (1300 4769 66) and we can assist you.  
Is my cryptocurrency donation tax deductible?
Please speak to your local tax adviser to find out if you are eligible for a tax deduction.
For Movember to issue an acknowledgement receipt, we require your full name, address and email address which will be required through the donation process via our trusted and secure third-party platform.
Note that acknowledgement receipts will be issued at the fair market value of the cryptocurrency at date of receipt.  
What does Movember do with cryptocurrency donations?
Your cryptocurrency donation will be automatically converted to fiat (USD) to directly fund Movember's ground-breaking men's health projects, year-round.   
Will cryptocurrency donations show up on my Mo Space? 
Yes, you can request to have your donation(s) feature on your Mo Space. It's not automated unfortunately (we're not quite there yet). However, we're more than happy to manually list your donation for you.   
What cryptocurrencies does Movember accept? 
The Giving Block accepts the following cryptocurrencies: Bitcoin (BTC), Ethereum (ETH), USD Coin (USD), Solana (SOL), Dogecoin (DOGE), Shiba Inu (SHIB), Polygon (MATIC), Dai (DAI), Litecoin (LTC), ChainLink (LINK), Uniswap (UNI), Bitcoin Cash (BCH), Decentraland (MANA), Filecoin (FIL), The Sandbox (SAND), ApeCoin (APE), Fantom (FTM), Axie Infinity Shards (AXS), Tezos (XTZ), Aave (AAVE), Zcash (ZEC), Maker (MKR), The Graph (GRT), Gala (GALA), Quant (QNT), Enjin Coin (ENJ), Loopring (LRC), Synthetix (SNX), Basic Attention Token (BAT), Curve Dao Token (CRV), Amp (AMP), Compound (COMP), Skale (SKL), PAX Gold (PAXG), yearn.finance (YFI), Audius (AUDIO), Ankr (ANKR), 1inch (1INCH), Bancor Network Token (BNT), 0x (ZRX), Liquity USD (LUSD), Livepeer (LPT), Render Token (RNDR), Dogelon Mars (ELON), Rally (RLY), UMA (UMA), SushiSwap (SUSHI), Storj (STORJ), Spell Token (SPELL), Ren (REN), Lido (LDO), Maple Finance (MPL), Ethereum Name Service (ENS), Raydium (RAY), Injective (INJ), Fetch.ai (FET), Merit Circle (MC), Civic (CVC), Liquity (LQTY), Orchid (OXT), Numeraire (NMR), Keep3r (KP3R), API3 (API3), Mirror Protocol (MIR), Wrapped Centrifuge (WCFG), Mask Network (MASK), Balancer (BAL), Alchemix (MIST), DeFi Pulse Index (DPI), Smooth Love Potion (SLP), BarnBridge (BOND), Saber (SBR), Moss Carbon Credit (MCO2), Kyber Network (KNC), Magic Internet Money (MIM), Somnium Space (CUBE), Radicle (RAD), Gemini Dollar (GUSD).
Note that this list may change as cryptocurrencies are added or removed.